Enjoy shopping online with your tax exempt status!
Please note that you must sign up online to receive tax exempt status on online purchases, even if you have previously signed up in store.
Apply for tax exemption status in 3 easy steps!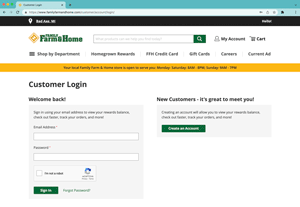 1. Sign In Online
Sign in to your FamilyFarmandHome.com online account. If you do not yet have an account, you will need to create one.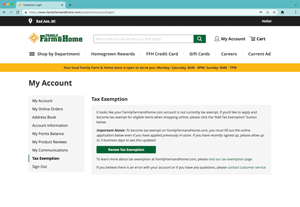 2. Navigate to Tax Exemption
Once signed in, navigate to the Tax Exemption screen by clicking the "Tax Exemption" link in My Account. This link can be found in the My Account menu.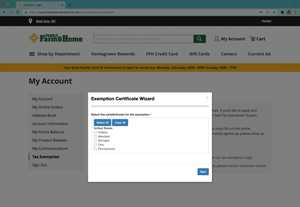 3. Complete your Registration
Click on the "Add Tax Exemption" button on your screen to begin the registration process. Here you will be directed through a third-party site's questionnaire to complete your registration.
Important Information:
Once your registration has been completed, please allow up to 3 business days for your registration to be reviewed and updated.
If your registration was approved, the Tax Exemption screen in your FamilyFarmandHome.com account will be updated to reflect your status and you will be able to shop for your tax exempt items online.
If your registration is invalid, you will receive an email providing the reason for rejection and a link that will allow you to resubmit the corrected information.
If it has been 4+ business days without receiving an email or without your account updating, please contact our customer service team.
Reminder: to have your tax exempt status online, you must register online even if you have previously registered in store.